What is Extended Planning and Analysis (xP&A)?
Briefing:
The Extended Planning and Analysis is a prepackaged content for SAP Analytics Cloud designed to establish a simplified, comprehensive planning process by bringing together financial, supply chain, and workforce planning. By creating one connected plan across lines of business, they can strengthen collaboration throughout the organization.
The challenges:
Conventional financial planning methods often revolve around summarizing financial data, yielding a basic comparison of actual figures against projected numbers within a financial statement layout. Although this output remains essential, such approaches tend to fall short in delivering substantial value to the organization due to the ensuing obstacles:
Prolonged time cycles
Limited relevance to day-to-day operations
Absence of transparency and integration with key business drivers, key performance indicators (KPIs), and insightful analytics
Incapacity to delve into the fundamental causes of issues
Constrained scenario exploration and modeling capabilities
Consequently, enterprises find themselves grappling with compartmentalized planning perspectives, devoid of collaboration or cohesion among planners. The outcome is disjointed plans and a lack of comprehensive transparency spanning the entirety of the business. This circumstance hampers their ability to adeptly respond to unforeseen circumstances and trials, such as escalating costs and disruptions in the supply chain.
The solution:
The Extended Planning & Analysis (xP&A) takes an innovative approach to planning that harnesses the prime attributes of financial planning and analysis (FP&A), including continuous planning, predictive forecasting, cutting-edge analytics, and vigilant performance tracking. xP&A transcends the boundaries of finance, infiltrating operational departments with the prowess of FP&A.
Beyond this, it dismantles the traditional barriers segregating financial and operational domains, forging connections among strategic, financial, and operational blueprints. This unified methodology empowers businesses to navigate modern challenges seamlessly and unlock newfound avenues for profitability.
The Planning areas that xP&A covers:
Financial planning: The financial planning process in SAC uses S/4HANA predeveloped content packages allowing users to fast-track financial planning and analysis transformations; with the live connectivity between plans and actuals, automated allocations and multistep planning processes, and financial analytics dashboards.
Human resources: The Workforce planning process on SAC use SAP SuccessFactors content packages fast-tracking users' workforce planning and analytics transformations; with detailed operational headcount planning including new hires, transfers, contingent workers, and organizational KPIs including staffing, positions, and attribution. Supply Chain: The Supply chain planning process on SAC uses SAP Integrated Business Planning and SAP S/4HANA content packages to kick start users' digital supply chain transformations; through harvesting insights from design to operating with augmented analytics, extending supply chain planning processes with financial, strategic and operational alignment, and the simulation of outcomes based on supply chain and financial drivers.
FP&A and IFP
Either FP&A (Rapid Financial Planning & Analytics) which is finance focused, or IFP (Integrated Financial Planning) which is controlling focused, can be used depending on the business requirements. Both are packages for SAP S/4HANA accounting.
FP&A (Rapid Financial Planning & Analytics) Content is:
Finance/Financial Accounting focused
Best practices scope documentation
S4 on premise and cloud
Indirect integration to SF via S4
CAPEX in development
HR is Finance led.
Integration process of FP&A
FP&A's Global nature requires:
Local and Global Currency
Base and Standard Unit of Measure
Aggregate views of Customer, Products, Jobs/Locations, and Capital Assets
Integration to S4, SuccessFactors, and 3rd party sources
FP&A's Corporate nature requires:
Planning + Analysis; P&L, BS, Cash Flow
Dashboard / Visualizations / KPI's
Trend, Variance, Year-over-Year analysis
Simple/common End-user Experience
Headcount + Capital Asset monitoring
SAP FP&A (SAP Rapid Financial Planning & Analytics) solutions in made up of four planning areas:
FP&A \Profit & Loss / Cash Flow / Balance Sheet
All of the data is consolidated into this area.
All of the data is available by company and profit center.
Expense can be analyzed by cost center (but cost centers don't carry revenue).
Profit centers are derived from cost centers in expense postings.
2. Workforce
The data originates by cost center.
3. Sales
The data originates by profit center.
Plant is required because it is needed to determine the profit center for customer sales.
The sales model includes a unit of measure conversion (using account properties).
4. Capital Expenditures
The data originates by cost center.
Lesson: Describing IFP and FP&A delivered content
SAP FP&A (SAP Rapid Financial Planning & Analytics) for SAP S/4HANA using SAP Analytics Cloud (New Model Type) delivered content:
Planning:
Prebuilt financial planning and analysis model based on SAP S/4HANA
Accelerators include: proposed planning process, planning input templates, plan calculations + "assumptions generator" and currency conversion
Profit and Loss, Balance Sheet, Cash Flow, KPI planning and analysis
Analysis:
Prebuilt set of analytical dashboards, key performance indicators, and predictive features (customizable as the user sees fit)
Accelerators include: Trend reports, Year-over-Year reports, Actual vs Plan Variance reports.
Simplified reporting and Analytics across financial statements and KPI's
Integration:
Best Practices to integrate financial results from SAP S/4HANA into SAP Analytics Cloud, plus retract plan data back into SAP S/4HANA
Accelerators include prebuilt integration jobs and best practices integration methodologies + documentation
Plus: Rapid Sales + Rapid Workforce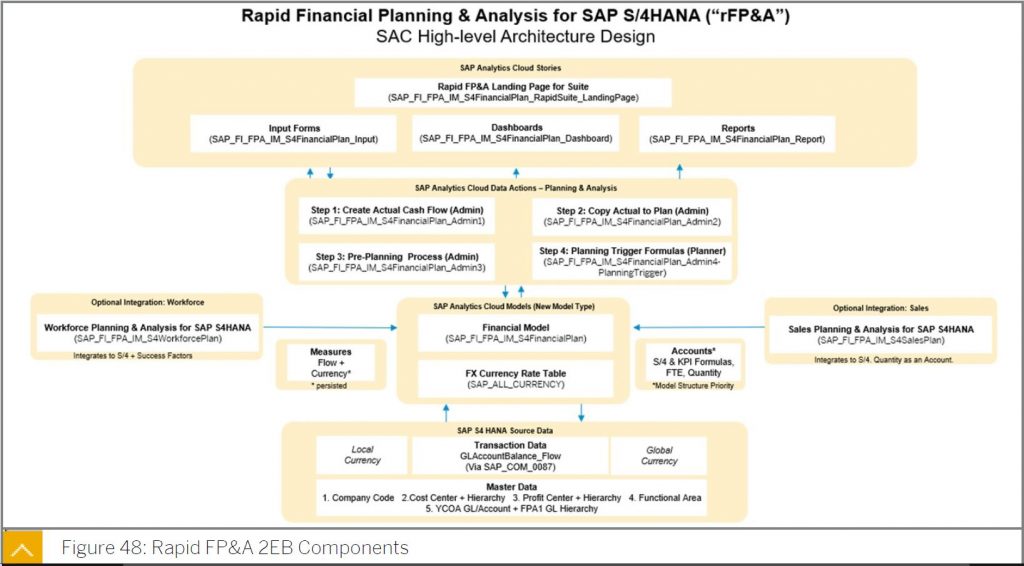 Available content on SAC:
| Stories ID | Description |
| --- | --- |
| SAP_FI_FPA_IM_S4FinancialPlan_Dashboard | SAP Finance: FP&A – Rapid Financial Planning & Analysis for SAP S/4HANA – Dashboard |
| SAP_FI_FPA_IM_S4FinancialPlan_Input | SAP Finance: FP&A – Rapid Financial Planning & Analysis for SAP S/4HANA – Input Forms |
| SAP_FI_FPA_IM_S4FinancialPlan_RapidSuite_LandingPage | SAP Finance: FP&A – Rapid Financial Planning & Analysis for SAP S/4HANA (3 scope items) – Landing Page |
| SAP_FI_FPA_IM_S4FinancialPlan_Report | SAP Finance: FP&A – Rapid Financial Planning & Analysis for SAP S/4HANA – Reports |
| Model ID | Description |
| --- | --- |
| SAP_FI_FPA_IM_S4FinancialPlan | SAP Finance: xP&A: Corp FP&A – Rapid Financial Planning & Analysis for SAP S/4HANA – New Model Type – ver 4 – May 2023 |
SAP Rapid Workforce Planning and Analysis for SAP S/4HANA using SAP Analytics Cloud (New Model Type) delivered content:
Headcount Planning:
Prebuilt workforce planning model based on SAP SuccessFactors & SAP S/4HANA
Accelerators include: proposed planning process, planning input templates, plan calculations + "assumption generator" and currency conversion
Plan fires, transfers, terminations
Employee Expense Planning:
Planners plan employee-related expense: salary, bonus, benefits, travel, & office expenses
"Assumption generator" leverages historical trends into the workforce planning process
Enables a critical layer of cost center planning in a financial planning and analysis scenario
Integration:
Best Practices to integrate SAP S/4HANA & SuccessFactors into SAP Analytics Cloud
Accelerators include prebuilt integration jobs and best practice integration methodologies + documentation
Plus: Rapid Finance + Rapid Sales
Available content on SAC
| Stories ID | Description |
| --- | --- |
| SAP_FI_FPA_IM_S4WorkforcePlan_Dashboard | SAP Finance: FP&A – Rapid Workforce Planning & Analysis for SAP S/4HANA – Dashboard |
| SAP_FI_FPA_IM_S4WorkforcePlan_Input | SAP Finance: FP&A – Rapid Workforce Planning & Analysis for SAP S/4HANA – Input Forms |
| SAP_FI_FPA_IM_S4WorkforcePlan_Input_NewPositions | SAP Finance: FP&A – Rapid Workforce Planning & Analysis for SAP S/4HANA – Input Form – New Positions |
| SAP_FI_FPA_IM_S4WorkforcePlan_Report | SAP Finance: FP&A – Rapid Workforce Planning & Analysis for SAP S/4HANA – Reports |
| Model ID | Description |
| --- | --- |
| SAP_FI_FPA_IM_S4WorkforcePlan | SAP Finance: xP&A: Corp FP&A – Rapid Workforce Planning & Analysis for SAP S/4HANA (+SuccessFactors) – New Model Type – ver 3 – Feb 2023 |
SAP Rapid Sales Planning & Analysis for SAP S/4HANA using SAP Analytics Cloud (New Model Type) delivered content:
Planning:
Prebuilt sales planning model based on SAP S/4HANA
Accelerators include: proposed planning process, planning input templates, plan calculations + "assumption generator" and currency conversion + std unit of measure
4 drivers: Price, Discount %, COGS, and Quantity
Analysis:
Prebuilt analytical dashboard, key performance indicators, and predictive features, Customizable as user sees fit.
Accelerators include: Margin and KPI Trend reports, Year-over-Year reports, Actual vs Plan reports
Visual customer and product mix analysis of revenue, margin, price, and quantity
Integration:
Best Practices to integrate sales finance results from SAP S/4HANA into SAP Analytics Cloud
Accelerators include prebuilt integration jobs and best practice integration methodologies + documentation
Plus: Rapid Finance + Rapid Workforce
Available content on SAC
| Stories ID | Description |
| --- | --- |
| SAP_FI_FPA_IM_S4SalesPlan_Dashboard | SAP Finance: FP&A – Rapid Sales Planning & Analysis for SAP S/4HANA – Dashboard |
| SAP_FI_FPA_IM_S4SalesPlan_Dashboard | SAP Finance: FP&A – Rapid Sales Planning & Analysis for SAP S/4HANA – Input Form |
| SAP_FI_FPA_IM_S4SalesPlan_Report | SAP Finance – FP&A: Rapid Sales Planning & Analysis for SAP S/4HANA – Reports |
| Model ID | Description |
| --- | --- |
| SAP_FI_FPA_IM_S4SalesPlan | SAP Finance: xP&A: Corp FP&A – Rapid Sales Planning & Analysis for SAP S/4HANA – New Model Type – ver 3 – Feb 2023 |